Hull 2 - 1/35th scale Skeleton Kit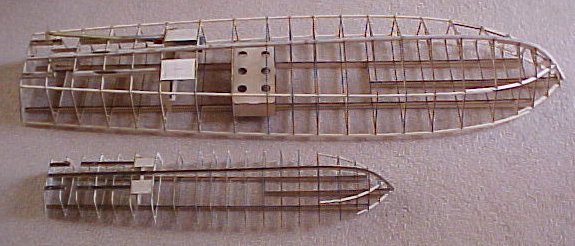 1/20th scale (4') top and 1/35th scale (27.5") models side by side.
While you wait for the kit to arrive:
On the 1/35th scale hull the propeller shaft from the rear of the engine mount to the back of the supplied timber propeller struts is approximately 163mm overall with 50mm to where it enters the keel inside the hull, 60mm through the keel and 53mm outside the hull. What you need are three propshafts approximately 3.5 - 4.5mm OD with a 2mm or 3mm ID shaft and you need three 20mm - 22mm diameter propellers.

I made some shafts using K&S metals 4.5mm OD (4mm ID) brass tube and a 2mm and an outer 3mm brass shaft with 4mm OD (3mm ID) x 15mm brass tube as bearings each end as it fits telescopically into each other with a little clearance, solder or use some locktite or other anaerobic to hold the bearings in. You may be able to find something already made at the hobby shop but these are usually a little too big for scale.. I couldn't decide on 2mm or 3mm shaft so I have allowed for both.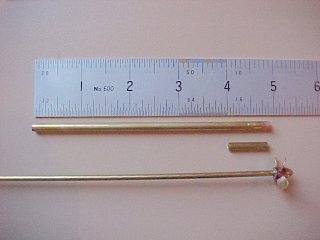 The outside propshaft tube with bearings at each end is called a stuffing tube and once fitted to the hull it needs to be filled (stuffed) with lots of grease or vaseline for shaft lubrication and to keep the water out.

You could also use just a plastic tube with a metal shaft or the other extreme of bronze bearings or oilite bearing materials depending on the level of performance you are looking for!

Obviously the motor shaft (3mm) will use part of the overall shaft distance but they vary a lot so buy the motors first and cut the shaft to suit and round the ends. Use some small silicon fuel tubing to link the motor and propshaft together or you may be able to find some universal joits the right size (I haven't). If you need a stronger flexible joint put some larger silicon tubing over the smaller one.
I decided to do a 1/35th scale hull-2 version as it is a scale for which a huge variety of plastic parts and models are available, all manner of equipment, jeeps, navy and army infantry, machine guns, bigger Bofors cannons etc. and it's also a great scale for diorama's. At 1/35th scale the boat is still 696mm or 27.4" long which is a reasonable sized craft to enjoy building and the whole skeleton kit fits on three A3 sheets of 1.2mm ply so there is much less material cost than the 1/20th kit and it's very economical to ship by airmail. It can also use much less expensive motors, propellers and rudders. This is still a precision model kit and requires a moderate amount of skill and time to put together, it still has three propshafts and three rudders and if fitted with three speed 400 size motors it should scoot along at very high speed and do you proud ( I would note also that there are now some very potent 28mm diameter brushless motors that would also fit this model).
And also, let's face it, there are some members of families who just don't understand or appreciate a 4' long boat sitting around the place!
Based on my years of research, many books, photographs and the available original drawings that I have managed to get hold of I spent many thousands of hours re-creating and re-drawing the original full scale boat plans (which is an ongoing project) and based on these plans I developed the new, more accurate, Hull-2 kits. Please don't ask me for Autocad files as refusal sometimes offends!
I have finished the design of the 1/35th scale Hull-2 skeleton kit and I have also finished the 9 pages of instructions with lots of photo's about how to build it. I have increased the number of parts to 122 and I have set the kit price including insured airmail postage to USA or UK at $165.00 Australian Dollars which is about USD$124.50 or UKP70, delivery takes around 7-10 days by airmail. I can accept Paypal, Visa or Mastercard payments.
The laser cut 1/35th scale kit includes 20 ribs, transom, laminated main keel, laminated wing prop shafts and separate rudder keels, breakaway laminated deck runners which includes the deck opening upstand, motor mounts, servo mounts, a large battery box and a laminated stand. These parts are cut from very fine grade 1.2mm (3/64") thick GL3 Birch ply from UPM in Finland and are supplied on three sheets that are 300mm x 400mm (1' x 1'4"), this makes a 3.6mm (5/32") thick stack that can be shipped as a flat Padded postpak bag by airmail and will weigh around 0.8Kg (1.8 pounds). This is an important consideration as I am in Australia!
The long keels when made up, are laminated as 4 thicknesses of 1.2mm ply with 6 thicknesses at the prop shafts and rudders, the deck runners are 2 thicknesses, the individual short pieces are fitted together end to end with staggered jigsaw like joints. All individual kit parts join together into slots or recesses and make for a very strong but lightweight hull frame that is fairly easy to build. The motor mounting board is designed to take motors up to 28mm diameter.
You will need to supply the long chine and gunwale timbers and the hull covering materials as well as the running gear. The chine and gunwale are 2.4mm (3/32") square section material about 600mm or 2' long of balsa or harder wood such as Ramin or Spruce and you can cover the hull in whatever you like, I am using 1 layer of 1" wide strips of 0.8mm (1/32")Balsa and 1 layer of 0.8mm (1/32") Birch ply which I have laser cut into 1/35th scale 6" wide planks, just like the real thing which was covered in two layers of 1/2" Mahogany planks with waterproofed muslin cloth between the layers.
Hull 2 is very accurately laser cut so there is a heap less drudge work involved in building it and the end result is an accurate, light and "tight" hull. The whole Hull-2 skeleton can be put together in a couple of days!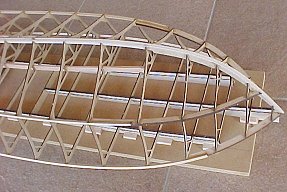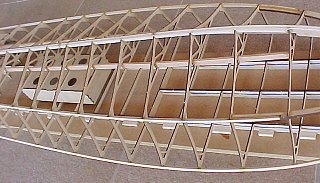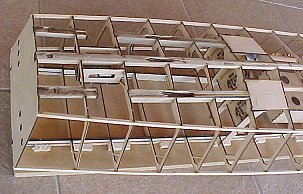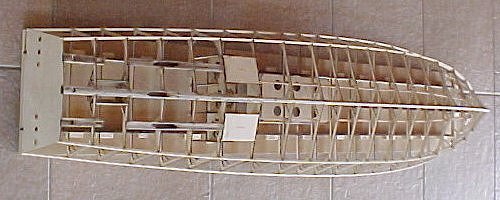 This is the 1/35th Skeleton kit finished, sanded and ready for planking.
Finishing the 1/35th Skeleton Kit into a boat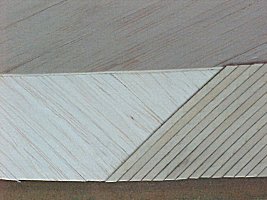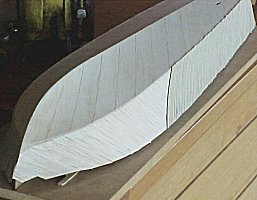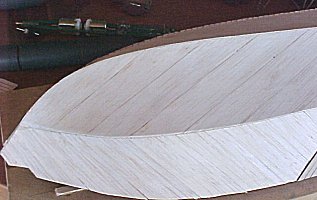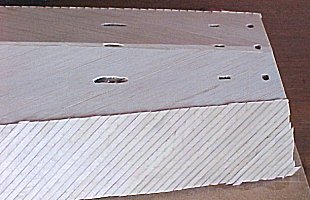 I decided to try an experiment with the 35th scale hull-2 based on the fact that the medium superglue's such as Zap and Greatplanes seem to glue Birch ply to Balsa wood much better than gluing ply to itself, in fact there are some cheaper superglue's which are absolutely useless on Birch ply. So I covered the frame with one layer of 1" thick strips of 1/32" good quality hard Balsa, this is quick and fairly simple to do. I used two 4' lengths of 4" wide Balsa.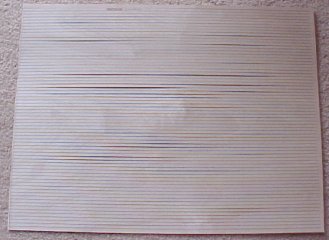 I then made up some 1/35th scale 6" planking (4.35mm wide) using the laser cutter, I used 0.8mm birch ply, not scale I know but not far off, I get 68 strips out of a 300 x 400mm sheet and each strip is a pretty good length to do three to four strips at 45 degrees or so on the hull surfaces, that's about 27 lineal metres or 89 lineal feet of planking per sheet and I used less than 2 sheets to do the entire outer covering.
One issue that becomes obvious in doing this covering method is that the outer covering is much harder than the Balsa inner covering so you need to be extremely careful when sanding or filing the Birch edges not to "attack" the Balsa too much. I used a small rough half round file to clean up the edges and it worked well with a little care..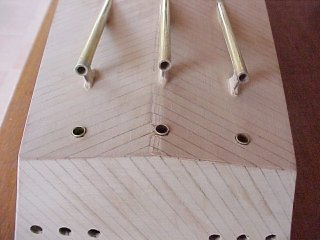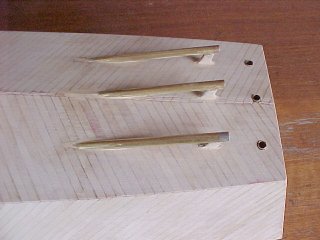 This shows the 4.5mm diameter brass propshafts glued into place on the ply struts supplied in the skeleton kit, I used some Loctite 406 (for difficult materials) superglue for this task and roughened up the tube a bit, wow that stuff is good! I have then filled the fairly rough job I did of the holes through the planking with some wood filler.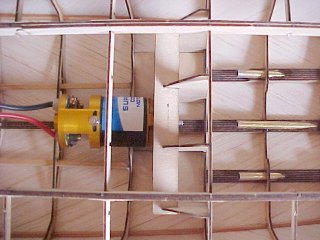 I have bought three of these 400 sized "Cobalt" brushed motors as they were only about USD$18 each (bargain price, nobody wants brushed motors anymore they said, well I do, these should be great!). Now what to do about universal joints between motors and propshafts, I was going to use silicone rubber tubing but these motors will probably tear it to shreds but I think I'll try that anyway.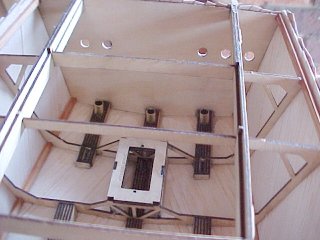 I have fitted some 4.5mm (4mm ID) tubing in for the rudders but I am going to have to make some 1/35th scale rudders to go in them as I can't find anything suitable from the stores.
(C) Copyright 2004, 2005, 2006 - John Drain