1/20th scale Hull-2 Elco Rudder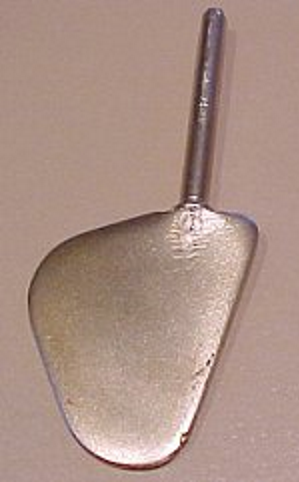 This is the 1/20th scale Hull-2 Elco rudder, it is sold individually as some people want two and some people want three.
The rudder is made from Cast Silicon Bronze and has a vertical drive shaft of just less than 4mm (5/32") and will need to be covered with a section of K&S metals 3/16" thick walled tubing and solder it in place and then it will fit into a standard Radio Active MA 3062 Mini Rudder fitting (or similar) in place of the flat blade that is supplied.
The package
I send all packages with tracking so that they don't get lost. Often packages are held at the customer's local Post Office as they can be too large for the customers mailbox, so if it has been a week or more since I notified you about shipment, please check with your Post Office. If I receive an attempted delivery message I will email you. If you don't pick it up after a couple of attempted deliveries it will likely get returned to us.
All packages are marked with the international Harmonised code for Reduced Scale Model Kits - HS950320. I also wrap the laser cut plywood in cling wrap to keep the sheets and instructions together and to reduce the "burned wood" smell which has, in the past, caused a returned shipment from France.
The total price includes tracked parcel postage to most places in Australia, New Zealand, Canada, the US, UK or Europe.
BUY IT NOW!
You can adjust the quantity in the cart.
© Copyright 2019 John Drain